December 20, 2022
New Features and Improvements
Provider Data Management
With the December 2022 release of the Verato® Universal Identity™ platform, Verato introduces Verato Provider Data Management™, adding another domain to the Verato hMDM platform — Master Data Management redefined for healthcare.
Verato Provider Data Management makes it easy to get a 360-degree view of every healthcare provider (practitioner or organization) in your system, allowing you to always know who is who across your ecosystem. Verato Provider Data Management utilizes Referential Matching® powered by Verato Reference Database, our trusted approach to resolving identities and gaining a 360-degree view of all types of providers in your network. Provider records are matched to a nationwide reference database and to each other to create a single source of truth. Referential Matching has been the industry-leading solution for patient matching at innovative healthcare organizations for years and is the only matching solution that has been independently verified for accuracy. Now, Verato brings this technology to your provider network. As part of Verato's cloud-native hMDM platform, Provider Data Management seamlessly integrates into existing processes and is fast to deploy and easy to manage.
Verato Provider Data Management's first release includes these key capabilities:
Referential Matching – accurately index and assemble data for each provider (whether practitioner or organization) from multiple disparate systems across your enterprise.
Data Enrichment – fill in critical gaps in provider records with Verato's enrichment data, which is kept up to date for you without any additional effort.
Verato Smart Views™ – leverage a 'golden view' and more – configure and use multiple business-scenario-specific views of provider identities, composed from your own data and Verato's enrichment data.
RESTful APIs – integrate easily with intuitive, modern APIs.
Relationships – understand and manage relationships within and across practitioners, locations, and organizations.
UI Portal – search, view, and steward your provider data using a comprehensive and modern user portal.
Patient Journey
You can now sort and filter your Patient Task and Rejected Overlays queues using the Resolution field.

This field provides an option for tracking additional details regarding why a task was resolved.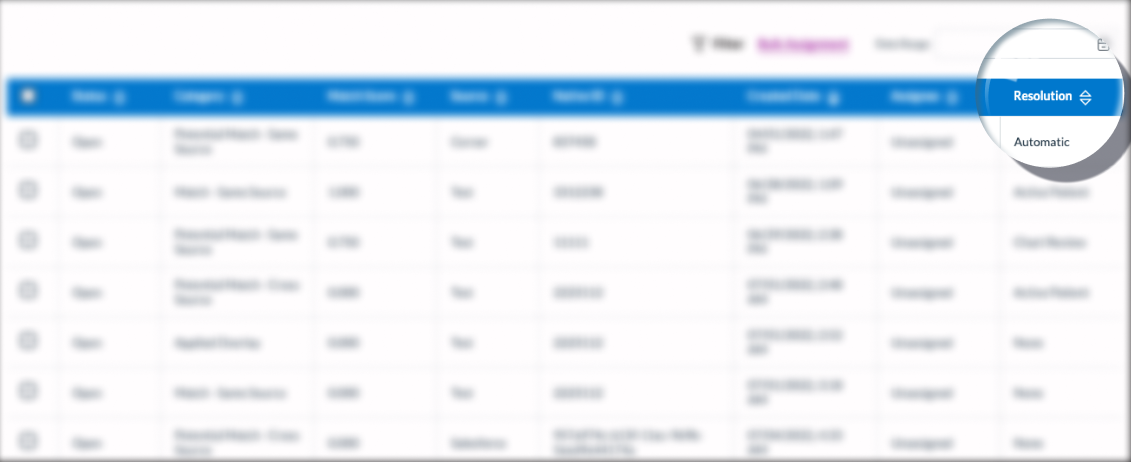 For more information, see the Task Resolution section.
Insights
Launched Provider Analytics insight report (available to customers with Provider Data Management Offering). Includes Individual Provider Identity analytics and Provider Task analytics.

Launched Population Analytics insight reports with performance improvements (available to customers with Consumer add-on). Includes Matched Tiers analytics and Householding analytics.

Improved dashboard filter panel user interface to streamline experience.

Removed universal dashboard landing page for improved navigation and user experience.

General cosmetic dashboard enhancements.
Bug Fixes
Patient Journey
The following issues have been resolved:
An issue with data standardization that resulted in the address directional component being discarded. A record with an address of 200 E 300 N would be stored as 200 300 N in Universal Identity. The stored address now correctly retains the directional component, E.
An issue that prevented the Reference Database identity from showing up alongside the person identity on the Universal Identity User Interface, if Match Tiers was enabled.